THE PRIMA Vini VINE-Monday, January 21st 2019
The PRIMA Vini VINE
Our Forty Second Year
Monday January 21st, 2019


What a game!
Peter Andrews, our loyal Boston sports fan (hey, he moved to CA from New England) is a happy young lad today!
---
Well, January is well under way and the holiday season, despite its importance from both a personal and business perspective, is already a distant speck in the rear view mirror. I am definitely enjoying my Christmas gifts, of course; a couple of new work shirts and a Bluetooth speaker for all my recorded jazz music. I even figured out how to use it with just a little help from my techie son, Nathan. So, life is good and 2019 is shaping up to be a great year for PRIMA Ristorante and PRIMA VINI. We certainly hope that the New Year is as promising for you and yours, filled with good health, happiness and lots of good times.
Speaking of that, we are just about ready to publish our 2019 Schedule of Events, replete with some fabulous winemaker dinners, exciting wine tastings and holiday festivities. Those of you who have attended one of our food and wine events in the past know just how much fun they are; Chef Peter's wonderful cuisine, paired with world-class wine from around the globe. Watch your email inbox for the complete list or pick up a printed version the next time you stop by the restaurant or wine shop. It's being designed as we speak, and then off to the printers for a final check and production.
Toward that end, we are asking all of our loyal customers to rate and/or review us on
Google
. To do so, click the link above and look to the right in the Prima Vini Wine Merchants Box. Just below Questions & Answers, you'll see the Reviews section. Click "Leave a Review."
Thank you, in advance, for your support in our efforts to continue sourcing unique and delicious wines from all the phenomenal, dedicated producers that we know and love as well as all the new discoveries waiting just around the corner. Let's make 2019 the Year of Wine, starting with your local, family-owned wine merchant, PRIMA VINI!
Cheers, Frank Rothstein
---
Events scheduled for the first quarter of 2019
---
Tuesday, February 19th
'Cold Winter Knights at PRIMA'
Wine Dinner


The year's first dinner of the Bay Area delegation of the 'Knights of the White Truffle and Wines of Alba' will be held at PRIMA on February 19th. This knightly order has its roots at the castle of Grinzane Cavour in the Langhe region of Piedmont, Italy, and has the mission of honoring those with a deep and abiding passion for the noble white truffle and the wines of the region.

The Northern California and Napa area delegation has been in existence for three years and our own John Rittmaster is on the ruling council. Once a year, the order has a Chapter here at PRIMA to welcome new knights and celebrate them with a lovely Piemontese dinner and a plethora of delicious Piemontese wines. Though this is technically a private event, last year's dinner generated a lot of local interest and even yielded several new knights.

And, this year, we are pleased to welcome, as our special guest from the home delegation in Grinzane Cavour, winemaker and good friend Maria-Cristina Oddero. Cristina's father Giacomo is one of the founding fathers of the order and it's a great honor to have her in town again so soon after her last visit last fall. If it sounds interesting, we'd love to have you join us. The menu and optional wine pairing is below and, on this particular evening, we welcome you to bring your own bottle of Langhe wine to share with the group.


6:00 Ceremony welcoming new knights
6:30 Sparkling wine reception
7:00 Dinner

il menu
Reception:
Grissini
House Made Bread Sticks with Black Truffle
Funghi fritti al limone
Batter Fried Cremini Mushrooms with Lemon

Antipasto:
Coniglio in porchetta
Rabbit Stuffed with Pork and Fennel, Small Lettuces
15 Year Old Aceto Balsalmico Tradizionale di Modena

Primo Piatto:
Agnolotti ripiene di pere e ricotta
Pasta Filled with Pears and Bellwether Farms Ricotta
Brown Butter, Hazelnuts, Saba and Mint

Secondo Piatto:
Brasato al Barolo
Beef Braised in Barolo Wine with Piemontese Spices
Cipolline Agro-Dolce, Rapini, Nantes Carrots

Formaggio:
La Tur
Mixed Milk Cheese of the Langhe
Kumquat Condimento

Dolce:
Torta di arancia al rosmarino
Olive Oil Orange Cake with Rosemary
Pistachio Gelato

Optional Wine Pairing
2016 Monchiero Carbone Roero Arneis 'Cecu D'la Biunda'
2015 Cantina Oddero Barbera d'Asti Nizza
2012 Giacomo Vico Nebbiolo d'Alba Valmaggiore 'Selezione Cavalieri'
2014 Cantina Oddero Barolo Classico
2013 Bricco Maiolica Barolo Contadin 'Selezione Cavalieri'

$183 per diner WITH tax and gratuity
Optional wine pairings featuring one-of-a-kind selections from the cellars of Grinzane Cavour, $50 per diner

---
In order to create a more elegant experience at PRIMA, we're moving to a pre-pay policy for its special events. For your convenience, we now offer the opportunity to purchase all your seats on-line. The ticketed price includes all taxes and gratuities without any service or other fees in order to create a seamless experience. After entering your information one time, you'll be able to secure seats for any event and pay for it quickly and easily. If you're not inclined to use the on-line service, you can still reserve a spot at any event by simply calling 925.935.7780 or e-mail info@primawine.com and speaking with one of our friendly hosts. We'll take your credit card at that time (or, we can use the credit card we have on file in PRIMA Vini) and pre-pay your event, including the tax and gratuity. No check will be presented at the end of the evening. Very elegant!

How our on-line ticketing system works: Click the link in the newsletter or simply visit www.primavini.com and pull down the 'events' tab to find the event you wish to attend. Secure the number of seats you desire by clicking the quantity button and add to the cart. If you can't get the number of seats you want, it probably means we're sold out. E-mail us and we'll put you on the waitlist. Go to 'check out' and either sign in as indicated or add your e-mail address to create a profile. Your information will be kept securely for all future transactions. There is no need to print the ticket. We'll be waiting for you and your guests when you get here.
Cancellation Policy: We realize that things happen and plans change. Your tickets are easily transferable. If you cannot make it, just let us know who will be attending in your stead and we'll take care of it. Tickets cancelled outside of 72 hours before the event will be 75% refunded. Cancellations within 72 hours of the event cannot be refunded.
---
THIS Friday
January 25th
Friday Nights at PRIMA 'An Italian Primer
with Peter Andrews'
Our fastest growing wine club is Peter Andrews' 'Il Consorzio di Italia,' our Italian wine club. Tonight we will take you through his January selections as well as a few others fun favorites from Bella Italia. Yum! The fun starts at 5:30 with no new bottles opened after 6:45. $20 per taster, $10 for members of any of our four fabulous wine clubs. Includes passed antipasti. RSVPs appreciated.
---
Friday, February 22nd- Friday Nights at PRIMA
Tasting TBA
---
Thursday, March 14th- 'An Evening With The Pisonis'
While we can't guarantee this will be like the night Gary invited everyone in the restaurant out back to taste samples from the barrels in his pickup truck, we do know that there's no more iconic name in Central Coast wine that Pisoni. Join us to celebrate the First Family of the Santa Lucia Highlands.
---
Friday, March 15th- Viva Barolo- PRIMA Welcomes Gianluca Grasso
From his family's gorgeous caves in the heart of Monforte d'Alba's Ginestra cru, winemaker Gianluca Grasso is making some of Barolo's most beautiful and age-worthy wines. Join Gianluca himself for a very intimate evening of his fabulous wines including, we're told, a sneak-preview of his incredible 2015 Barolos. We'll be sure to find some mature examples as well so you know what these youngsters will someday become. Very limited!
---
PRIMA's Wines of the Week
---
2017 Idlewild The Bird, Flora & Fauna, Mendocino
Dolcetto, Barbera, Nebbiolo Blend
Regular Price: $29.97
Sale Price: $25.97
Free Shipping on 6 or More Bottles
It is exceedingly rare that we try an American wine made with Italian varietals that tastes anything like the
real thing
. We've had Barberas that are over-ripe and somehow tannic; Dolcettos that are deeply colored and jammy; Nebbiolos that are overly astringent and taste like cherry juice. Yes, California does a great job with most of the world's major grape varieties but the so-called Ca-Ital wines have not quite measured up; that is, until now and that's due to Idlewild. With this producer, we've finally found a red wine based on Piemontese varietals that actually reminds us our time spent in the Langhe.
The Bird, which was
#37
in the
Wine Enthusiast's
Top 100 Wines of 2018
, is a blend of 60% Dolcetto, 35% Barbera and 5% Nebbiolo. Coming from the Fox Hill vineyard in Mendocino, this cool climate site is planted to a stunning array of Italian varietals. Aside from the aforementioned grapes, the vineyard also has Cortese, Arneis and southern Italy's white gem, Fiano. I don't know how they all work so well in one site, but they do.
The 2017 is supremely aromatic with notes of black cherry, strawberry, roses, orange peel, white pepper, bay laurel and dried sage. Most of this is so perfectly reminiscent of Piemonte, while the herbal qualities are totally North Coast in nature. On the palate, moderate levels of gripping tannins are balanced by juicy acidity. That is all met with more of those cherry, strawberry, orange and plum notes. This is a great red blend that has really opened our eyes to the great things that are happening today in the world of Cal-Ital wines. We think you'll feel the same, too.
---
2017 Floodgate Wine Company Pinot Noir
Russian River Valley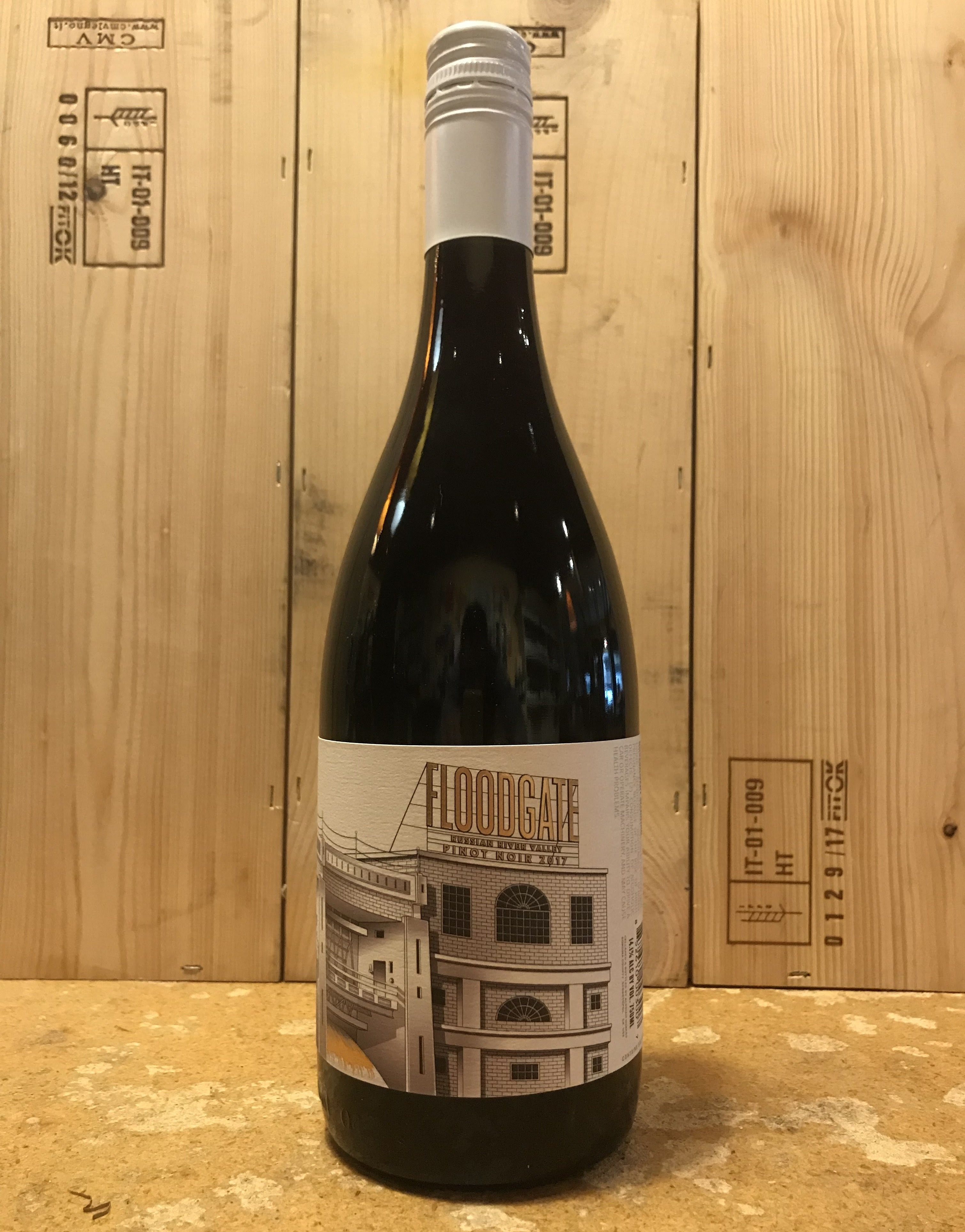 Regular Price: $34.97
Sale Price: $24.97
Shipping Included on 6 or More Bottles
One of our most intriguing
Pinot Noir
discoveries of the past few years was the
Floodgate Vineyard
cuvee made at
Alysian Winery
. Alysian, which just hit its tenth year in production, had the fortune of having
Gary Farrell
as their founding winemaker. Farrell, you'll remember, opened Alysian with his wife after selling his eponymously named winery too, so he thought, retire! Farrell produced eight remarkable vintages of Alysian, creating a place for the label among Russian River's elite. But retire he would, and 2013 would be Farrell's final vintage at Alysian. (The winery is in great hands, however, as Gary has passed the Alysian torch to his longtime assistant winemaker) One of Farrell's swansongs is this absolutely stunning Pinot bottled under Alysian's sister label, the
Floodgate Wine Company.
This beauty is made from the oldest still-extant Pinot Noir vines in the Russian River Valley AVA, vines that Farrell has worked with since his days at
Davis Bynum
. These historic, low-yielding vines produce intensely flavored, very distinctive fruit. The 2013 is filled with ripe blackberry, fresh plums, and heady aromas of violets, incense and crushed berries. The finish is silky, luscious and stunningly long too, with notes of dried cherries and spiced pipe tobacco. This is a refined but still sexy wine, in a drink-me-now style that will make your lamb chops stand up and notice! And the price is spectacular. You should get a case!