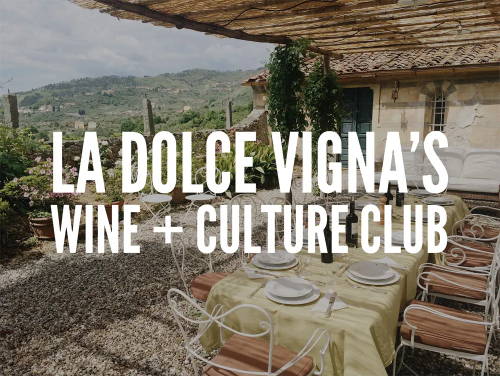 La Dolce Vigna's Wine + Culture Club
This Italian Wine + Culture Club is put together by Leslie Rosa, sommelier and founder of La Dolce Vigna Wine + Culture Tour Co.
Each season you will receive 10 bottles of wine, thematically selected by Leslie PLUS cultural swag related to the wines, which can come in the form of traditional crafts, foodstuffs, films, books, music, etc. Everything will be introduced in a booklet that Leslie artfully creates for each shipment.
This is the perfect club if you love learning about the rich cultural context behind what's in your glass!
Learn more about the other perks of this club here.
Club selections are released each June, September, December and March. Available to those who subscribe annually or while supplies last!
$450 + applicable tax and shipping / Season
Pay for the year now and get a free bottle of Leslie's favorite Classic Method Italian Sparkling Wine to celebrate with!
---